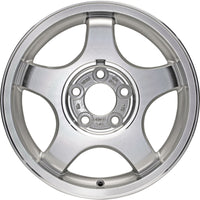 New 16" 2000-2007 Chevrolet Impala Replacement Wheel
Diameter:
16"
Width
6.5"
Bolt Pattern:
5x115mm
Lugs:
5
Offset:
52mm
Color:
Silver Machined with Clearcoat
Year:
2000-2007
Make:
Chevrolet
Model:
Impala
Weight:
22 lbs
Hollander:
560-5082, 5082
Associated Part Number:
9592871
FWC Part Number:
ALY05082U10N
Center Cap:
Not Included
This is a brand new 16" replacement alloy wheel for the 2000, 2001, 2002, 2003, 2004, 2005, 2006, 2007 Chevrolet Impala engineered to match the OEM counter-part in specs, quality, and design. Whether you are ordering one wheel or a set, these wheels will be a perfect match for Chevrolet Impala. We take pride in not only having the exact specs for your vehicle, but also in the quality of our wheels. These wheels do not need to be hand washed and can withstand any car wash. Our guarantee promises dependability and integrity with spectacular precision that will help keep your car safely on the road while preserving your cars splendor at a far less cost than direct from the dealer.

Note: Your factory center cap, lugs, & TPMS will fit this wheel.  Not included.
Great looking replacement alloy wheels
These new alloy wheels look better than the originals when they were new. Good quality and like the workmanship. Can't wait for spring to put them on the Chevy.